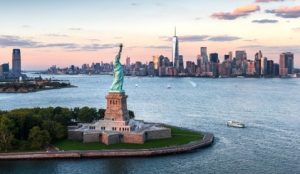 We hope your 2021 is off to a great start!
As we look beyond the horizon when the battle over Covid has been won, our focus will naturally turn back to doing so many of the things we love, but it will also be a time to commit our best minds and hearts to addressing the other major challenges in our country and the world.  When we consider the pain and losses that we have endured over the last year and watch the triumph of vaccine development in awe, one very salient point comes across:  Our future safety, peace and prosperity is directly tied to ensuring that the most brilliant minds are nurtured and empowered to meet the challenges of our future.
To ensure that our collective human potential can be achieved, we must confront the most universal and enduring challenge of humanity:  the fight for worldwide gender equality and women's empowerment.  The critical issues and problems that lie just beyond the horizon will be solved by the next generation, and it is up to us to prepare them – to educate them and guide them – so they may reach the peak of their potential.
But first we must inspire them.
As many of you are aware, we continue to pursue the creation and launch of the Tour of America, an elite multi-stage women's cycling race envisioned to become a women's counterpart to the Tour de France.  2020 was a devastating year for so many, and like many organizations and institutions, our effort needed to be put on hold.  With the start of 2021, we are now ramping back up with a new route, an expanded network of stakeholders, and the support and leadership of the Connecticut Convention and Sports Bureau.  Our plan is to run the race in five stages from New York to Boston, with a target launch date in mid-to-late 2022.
The Tour of America is a powerful platform for not just the promotion of global gender equality, but the necessity of it.  Any business that values diversity and inclusion, that is struggling to find and recruit women as future leaders, that is seeking to grow their workforce of female engineers and scientists, should consider the Tour of America as an ideal marketing investment – one that will show you are not just talking the talk (as so many are).
The Tour of America is also a means of helping address two other issues of growing relevance:
Climate Change – As the reality of man-made climate change finally gains wider acceptance, corporations and other entities are aligning with the science and implementing environmentally sustainable practices.  Cycling has long been a symbol of progressive environmentally friendly transportation, and for this reason alone, the Tour of America provides a timely platform for commercial partners to demonstrate their commitment to addressing this increasingly urgent issue.
Uniting America – Perhaps most important of all in this time of national division, the majority of Americans – and by extension, the companies that are pursuing them as customers, employees and shareholders – are seeking reminders of what we all share in common, and the Tour of America can be a unifying force.
The star of the Tour of America is America, in all its diversity, beauty and pride.  This event, which will eventually showcase different regions of the country each year, is a love letter to America and a celebration of our origins, our history and our values.  As a new sports institution, the Tour of America can help re-unite our people, it will refresh our spirit and it will showcase our unique and exceptional leadership role in the world as a vanguard of freedom, equality and diversity.  It is the best of America for all Americans.
Our small but talented core team remains intact and our network of support is growing.  The timing has never been better, and we are working to bring this vision to life.
Thank you for your support; we hope you share our excitement as we all move forward to much brighter days ahead.