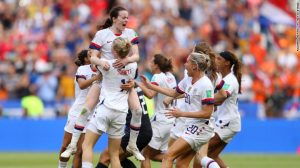 Four years ago, as I walked my dog through the neighborhood, I caught a couple of boys playing soccer in their front yard.  In a timeless practice of every imaginative boy, they were doing their own high-pitched play-by-play, narrating the action and referring to themselves as one of the heroes they aspired to become.
Who was the soccer hero of the moment for one of these boys?  Was it Messi or Neymar or Ronaldo?  No, instead, I heard something more like: "Alex Morgan gets the pass, she shoots and scores!!!!"
Four years on, I've just finished watching the championship game with three very enthusiastic 11-year old boys who's over-the-top enthusiasm for their home team knows no gender.  On all of our behalf, it time to again say congratulations to our FIFA World Cup Champions.  And notice that I'm not referencing them as "Women's" World Cup Champions.  There are reasons for that.
An obvious one:  we don't call it the "FIFA Men's World Cup".  There is no reason to.  If we put money aside (as we should), they are both equally important, especially in America, and even if we don't put money aside, the American women's team is a bigger revenue generator than the men's.
It raises the question:  should revenue generation by gender be the determining factor in how much each athlete is paid?  That's the way it is everywhere else in the world, but ironically, its just the opposite in the U.S.  Neither are correct, because both are equally important, and for that reason alone, each gender should be paid equally.
This is the battle that the leading athletes of women's soccer have been waging for years, and its long past time for pay equity to be mandated and implemented.  I can't make that case better than the women who have been doing it, but it is worth peeling back a layer on the discussion to understand why this is so important, and why women's soccer gives us (and I mean all of us) the best chance to achieve pay parity in sports.
In an ideal world, men's and women's sports would generate equal amounts of revenue and fan support in every sport in which they both compete, but history and dynamics exert a powerful influence upon who gets paid what.  In many cases, there's nothing evil at work here – it's simply business.  The commercial offerings of a sports property (teams, events, leagues) are historically divided by gender because that is often where there are clear differences in the commercial value – aka the amount of attention it gets – between a men's event and a women's event.
There are exceptions:  In tennis, there really is no difference in value between men's and women's value, and thankfully the gender pay gap is finally closing.  And there are even a few sports – Gymnastics and Figure Skating – where the women's competitions attract more attention than the men's.
Another factor:  sometimes men's sports are just a completely different experience than women's sports.  If you are a basketball fan who takes pleasure in acrobatic slam dunks, then you are not likely to have an equal appreciation of women's basketball.
Finally, for many events, it is common to bundle the men's and women's competitions into one cohesive event, in which a women's competition is close in time and space to the comparable men's race, game or match.  The logic is that a women's event will benefit from all the fans that the men's event will draw.  Unfortunately, what often happens instead is that the men's and women's events end up competing with each other for the same pot of  attention, money and operational resources, leading the women's event to become "ancillary" to the men's event.
Considering how hard it is to compete for attention and money in any sport, this is a common circumstance that can make it very hard for women athletes, teams and events to secure the sponsorships, broadcast and fan support necessary to become financially sustainable.
Gender aside, every sport has its own special qualities, but one thing is common to all of them:  when you are watching a great sports event, and especially if you are a big fan of one of the teams or competitors, you become deeply engaged in a way that is unlike any other form of entertainment.  There is a beauty to watching great athletes compete as hard as they can to win – to bring out their best and perform under pressure.  Everywhere in the world, sports gives us moments that are universally inspiring; we all share an attraction to great athletic competitions.
And whenever we see a great competition – when we are deeply immersed in witnessing the raw determination of people putting everything into achieving victory – the last thing on our mind is whether they are men or women.  At that moment, our full attention is on the competition.
All of this points to why a standalone event like the 2019 FIFA World Cup is so successful.  Over the last several weeks, they have had complete and deserved ownership of the spotlight, and from a business standpoint, nothing could be better.  We have witnessed another great tournament with world class competitors at their best, and the fact that the athletes were women didn't really matter.
And this why the (women's) World Cup is a perfect model for the standalone event that we call the Tour of America.
Our vision for the Tour of America is to create a great athletic competition – a world class multi-stage cycling race that will attract the same attention, sponsorships and broadcast coverage as any great sports event on the global stage.  It will be a women's race, but its not going to be called "the Women's Tour of America", for the same reason we don't call the Tour de France, the "Men's Tour de France."
Gender has nothing to do with a great sports experience, and as we are learning, neither does gender have anything to do with the actual commercial value of a great athletic competition when its allowed to stand on its own.  As with the 2019 FIFA World Cup, the Tour of America will achieve financial strength by standing on its own and growing into the ultimate test for women in the sport of cycling.  By that definition, along with a commitment to gender pay equity, the path is clear for a race like the Tour of America to emerge as a women's counterpart to the (Men's) Tour de France.
And someday, when we're watching a leg of the Tour of America as it takes us through a major American city, along a coastline or up and down one of America's stunning mountain ranges – some day when we are so deeply immersed in the race – the gender of the athletes will be the last thing we'll be thinking about because we'll be watching a great athletic competition.
So congratulations to our 2019 World Cup Champions, and enjoy the Tour de France!