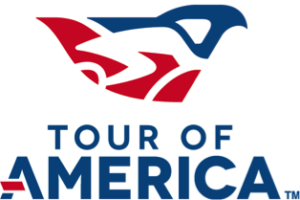 It has been an eventful year for cycling, women's cycling and women in general, and we are riding that wave as much as we can.
In the United States, a record number of women are running for office and the MeToo# Movement continues to enlighten as it reckons.
Meanwhile, 6000 miles away, women are finally allowed to drive a car in Saudi Arabia.  Our collective arcs of progress (aka, the moral universe) may bend at different angles, but they still bend toward justice.
For women's cycling, progress takes the form of establishing minimum salary requirements by the UCI, cycling's international governing body, to take effect in 2020.  Of course, minimum pay doesn't mean equal pay – that will take effect in 2022, but we think we can bend that arc even more toward the present.
Lynn Morgan, our CEO, and I have long believed that the first ever Tour of America must adhere to the highest standards of both quality and equality, in order for it to be a long-term success.  Our vision is to create a women's counterpart to the Tour de France, but for that to become a reality, we know the Tour of America must. . .
Be managed by a well-recognized and deeply experienced race management organization;
Be accessible via conventional or streaming broadcast, worldwide;
Deliver an exciting and memorable fan experience that will establish a new tradition in America as the next great sports event;
Deliver direct value to our commercial partners by allowing them to associate with a highly visible social platform: worldwide gender equality and women's empowerment;
Set a standard for women's cycling as the highest quality athlete experience in women's sports, with equal pay, premium accommodations and all the amenities to which the world's greatest road cyclists, men or women, are entitled as they compete.
These things are all deeply interrelated, but that last one will be the soul of our brand.  We believe the world is ready for the Tour of America, but we also believe that the long-term success of an event like this is dependent on us meeting the exacting standards that we have envisioned, and for that reason, we are "pivoting" to 2020 as our target year for the inaugural Tour of America.
It should be an amazing year.  2020 will mark the 100th anniversary of the 19th Amendment, which gave women the right to vote in America.  It will also be the 5th anniversary of the increasingly successful UCI Women's WorldTour and an opportunity for them to add us to their calendar as part of an expansion of the WorldTour in North America.
This summer saw another exciting and beautifully presented Tour de France – the pinnacle event in the sport, but also an annual and often painful reminder of one of the greatest gender disparities in all the world of sport.
While there is nothing quite like Le Tour (and never will be), that doesn't mean there can't be an elite multi-stage cycling race with a comparable level of athletic excellence, of physical beauty, of unforgettable experiences, and of commercial value. . . for women.
That race can and will stand on its own – an American brand with international resonance – built around an event that, among many other things, will inspire girls and women around the world to demand and achieve the dignity and equality they deserve – a celebration that is also a call to action.
That race is the Tour of America, and our vision is as clear as 2020.