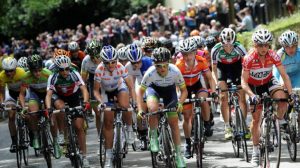 Our seasoned Tour of America team has learned some important lessons over our decades of sports marketing experience, chief among them:  we understand the elements that go into a viable business model for a sports property.
Sports is a passion for so many people, and passion can often cloud judgment, which is why the road to profitability is littered with the wreckage of failed sports ventures and football leagues.
Cycling has never been immune to this same risk of passion over prudence:  you just can't create a financially sustainable sports property based solely on people's love of riding a bike.  It has been tried many times and, in most cases, it only succeeds because someone is willing to lose money on it.
That's not a business model and not the path we plan to take.
We know we have to be very creative and very unique to build the Tour of America into a viable property, and to that end, we've identified our Top 7 reasons why we can succeed where others have failed.  Here we go:
#1  A Sharper Focus.  The Tour of America is a "standalone" elite women's multi-stage cycling race, and by standing alone – that is, separate and distinct from a comparable men's race – we ensure that the spotlight is fully focused on our race and our athletes.  It worked for the 2015 FIFA Women's World Cup™, and it even worked for the US Women's Hockey team in the PyeongChang 2018 Olympic Games (how many of you stayed up all night to watch it?).  By sharpening the focus on women's elite cycling, the Tour of America will not be forced to compete directly with other events for attendance, eyeballs, media and sponsorship revenue because it will be standing alone, in the spotlight for all to see.
#2  A Bigger Brand.  The most successful race in the sport is built upon a "national" brand, and there is no comparable version of that in the United States. For North America, the most successful races are identified by a state brand (The Tour of California, The Tour of Utah, the soon to be 2 years old Colorado Classic).  This is great for the state, but it typically limits corporate partnerships to those within or most interested in that state.  In contrast, the Tour of America, like the Tour de France, is positioned to provide an association with the aspirations, values and expanse of an entire country:  something with which sponsors are more likely to want to associate and invest in.
#3  More Assets.  When we think of marketing assets, we often think of things like signage, advertising, branding, hospitality – all standard items for your average sports event.  That's what sponsors pay for and that's how they "activate" their association with the sports property.  The Tour of America will have all of those things, but we will also offer something to our partners that no cycling race has ever had:  a powerful social platform and message that is universally relevant, not just to America, but to the entire world.  We are setting out to solve the world's biggest problem:  gender inequality – a reality that impacts every corporation in some way.  Our social platform will be our most differentiating element, delivering immeasurable value and goodwill back to those partners who choose to join us in this effort.  Our sponsors will be presented as much more than just marketing partners because the Tour of America is much more than just a cycling race.
#4  More Revenue Streams.  Historically, the financial nuts and bolts of the average cycling race have not been screwed in too tight. It's not easy to make money on an event where there is no ticket revenue, which puts the financial burden almost entirely on sponsors.  As mentioned, we will be well-positioned to attract national and multi-national sponsors by virtue of our brand, but that alone is not going to deliver a business model.  We need to be extremely creative to capture revenue from new and existing sources, and here's how we see that happening:
Mass participation rides/races: We will offer mass rides along the route of the race before or after the elite competition.  These rides will attract families and riders at all skill levels for reasonable participation fees, a portion of which will go to a local non-profit.
High reach, low cost streaming video: The sports broadcasting landscape is undergoing a tumultuous transformation, with one thing being certain:  the demand for sports content is higher than ever and will continue to be of interest to the emerging and legacy broadcasters who have come to terms with the fact that people are ditching their cable subscriptions and often watching sports in the palm of their hands.  Whether through a pay wall, advertising or ownership, there is money to be made by and from a race like the Tour of America:  an international sports event with universal global appeal that will be streamed everywhere.
Hosting Fees: In Year 3 of the Tour of America, host status for the race will be put out to bid for other regions in the United States, allowing other cities and states to take part in a growing annual tradition.  If we do our jobs right, the race will have enough equity to command operational cost coverage and hosting fees simply due to the economic impact it can bring to a region.
Virtual and Augmented Reality: Cycling might be the best possible application of VR technology because it is a visual spectacle unlike any sport that is confined to a stadium.  As the peloton and leaders progress through every city, town and countryside – accompanied by a motorcycles equipped with VR cameras – we will be able to embed geographically contextualized advertising that will serve as a new revenue stream for the Tour, our partners and especially our host cities and towns.  We will essentially be able to offer advertising inventory on every actual or virtual billboard along the route for the next growing generation of VR viewers.
Ancillary Events:  We will celebrate each stage of our race with concerts, festivals and cycling expos (a public trade and merchandise show for anyone interested in cycling).  These activities will drive up engagement in populous towns and cities along the route and bring in additional revenue through licensing, merchandise sales, exhibition fees and VIP tickets sales.  Ancillary events are common in other cycling races, but because no predecessor has a social platform like ours, we expect our events to be turbocharged with powerful messaging, educational programming, celebrity participation and higher attendance.
#5  Ideal Timing.  The rise of women's sports is a wave we are seeking to ride, but just behind that, hovering much higher and more powerfully above that wave is another one:  the #MeToo Movement.  This is more than just a wave – it's a tsunami, and one that we want to navigate appropriately.  To that end, we want to be part of the vision for a better world, one in which women are celebrated and fully empowered to help conquer the numerous other global problems that have yet to be solved.  The timing is right for us to help strengthen and sustain the movement in the most constructive way possible by engaging corporations, educational institutions and grassroots organizations to devise and deliver solutions that will address gender inequality at the critical cultural level.  Just as a bike empowers us to physically move forward at a higher rate of speed, so will the Tour of America empower us all to "culturally" move forward as a global community.
#6  A Talented, Experienced Team.  Our small team has a about 80 years of combined sports marketing experience, with skillsets ranging from marketing to operations to executive leadership.  Medalist Sports, our operational partner, is a globally recognized cycling event management company with an extensive network of cycling industry relationships.  The career of our CEO, Lynn Morgan, includes serving as CEO of the Women's United Soccer Association and the launch of two successful professional sports teams.  We have support and advocacy from USA Cycling, the Women's Cycling Association and the UCI, and we are privileged to have an athlete steering committee that includes three-time gold medalist Kristin Armstrong.
#7  The World is Our Target.  As with most cycling events, the sport provides access to a lucrative demographic:  affluent well-educated cyclists in North America.  But we are thinking bigger.  As a global event with international appeal, our brand positioning and target market is based on the reality that more than one fourth of all of humanity rides a bike, making it a more natural point of engagement than any other sport with the possible exception of soccer.  This universal nature of cycling aligns us well with tech companies seeking to engage the largest possible targets around the world and not just the affluent cyclist.
In previous blog posts, we've detailed our mission and vision, and now we've shared why the Tour of America will have a viable business model.  In the coming weeks, we're going to talk about our dream list of sponsors and investors – the people and companies that are perfectly positioned to help bring the Tour of America to life.
We hope you'll continue to tag along!