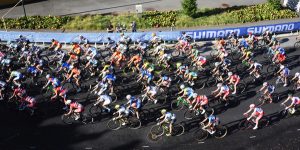 Just like the world's best cyclists, our goal with this blog is to keep our eyes looking forward and focus on getting to the top of this mountain.  We are not going to spend a lot of time looking backward, but this is a good time to give you a little bit of a look back on how we all got here and the leadership we have put in place to deliver the Tour of America.
For me (Kevin), I started my working life in the corporate world with Delta Air Lines and had the great privilege of working on our sponsorship of the 1996 Olympic Games.  As something of an "Olympic-a-phile" this was a perfect fit that later led me to a consulting role in sports marketing from 2005 through 2014 with global sports marketing firm, Helios Partners, a company eventually acquired by ASO, the rights holder of the Tour de France.
The Olympic Games epitomize why I love sports – it is the most universal and inclusive global institution that we have, with values that aspire to be what is best about humanity.  We don't always succeed, of course, but sports continue to be one of the great unifying activities of humankind, and we are at one of those moments in human and American history in which unity is increasingly scarce.  The Tour of America will be an example of sports in service to humanity at a time when we really need it, and we believe it can become one of the next great unifying sports events in the world and our country.
Lynn Morgan is our CEO.  I first met Lynn during our Olympic activities way back in in 1996 and we re-united almost 20 years later when I shared with her the concept of the Tour of America idea.  Since we had last connected, Lynn's success has included a role as the CEO of the Women's United Soccer Association, along with many other milestones during her long career with Cox Enterprises.  Fortunately,  Lynn loved the idea of a Tour of America when I shared it with her; based on her love of sports and her senior level executive experience, she is a natural fit to be our leader.
Maria Solomon joined us a few years ago following her own stint in sports marketing involving a lot of on-the-ground Olympic event management.  She brings years of experience in the global sports marketing and operations industry, along with social media intelligence and an MBA from Ohio University, home of one of the nation's most renowned sports marketing graduate schools.
Since our birth, we have also established some very strong relationships with people who know a lot more than we do, including:
Medalist Sports – our operational partner and highly experienced, globally recognized manager of major cycling races around the world.  Chris Aronhalt, one of the principals of Medalist, has been with us from the start, educating us on the sport and ways in which we can deliver a high-quality multi-stage event.
USA Cycling, and their CEO, Derek Bouchard-Hall, have pledged their support for the Tour of America, which perfectly aligns with their mission to grow the sport across the country.
The UCI, the sport's international federation, has also expressed their support for the Tour of America at the board level.  The UCI is committed to building the UCI Women's WorldTour, now just months away from starting its third year after a successful first two.  This series of women's elite races currently only has a single race in the U.S. – a 3-stage women's race that is part of the Amgen Tour of California.  For the good of the sport, we need more races in North America.  (Here we are!)
The Women's Cycling Association – Robin Farina, the organization's CEO shares the same vision as we do to grow women's cycling
Our Athlete Steering Committee – Nicola Cranmer, Tina Pic and three-time gold medalist Kristin Armstrong all appear in our promotional video, and all have pledged their support.  We want the Tour of America to be the most athlete-centric of any race (men's or women's), with equal pay, benefits and quality standards.  They will help us stay on the road to that goal.
Lynn and I have had numerous conversations with other people who love this idea, but as is the case with so many big ideas, making them happen the first time comes down to how much money you have and who's going to give it to you.
Well, for now, we're not going to think about money.  Instead, we're going to focus on getting people to join our audience – we're going to keep looking forward, down the road – and if we can get enough people engaged and interested, the funding will follow.  For now, our new currency and our new definition of success is winning the support of people like you
Help us succeed – Join us, like us, follow us, share us and subscribe.   Thanks for your support!