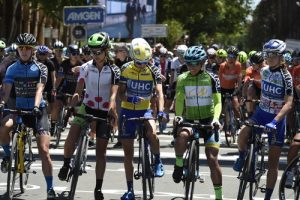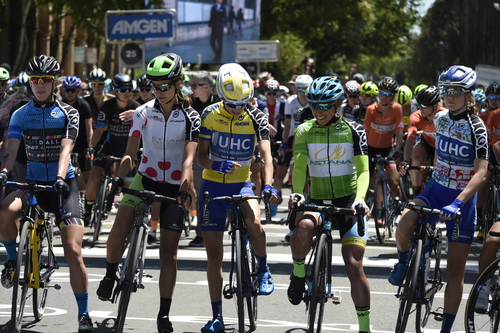 Cycling races rely much more heavily on sponsorship support than do average stadium sports; they are not the most spectator friendly events, and for that reason, there is no ticket revenue.
The biggest races that aren't named the Tour de France typically count on a single big sponsor to fund the majority of operations, and that usually requires the race to literally name itself after the sponsor.  Even then, though, the value that the race delivers to the sponsor is constantly being assessed – as it should be – to ensure it's a worthy investment.
For this reason, a perfect sponsorship is one that is a true partnership, in which the sports property is continually looking at creative and meaningful ways to deliver value to their sponsor, and that's a process that should begin before the first conversation.
To that end, we hereby would like to begin that process.  Here is a short list of "Dream Sponsors" that we have in mind – the ones that we believe could benefit most (and provide the most benefit) as part of a Tour of America partnership.
1. Facebook
"Oh no, not them!"  Well, let us consider that America is a land of great second acts, and the Tour of America may just be the best stage for a refreshing second act of Facebook. Unless one believes that no amount of self-awareness and corrective action can redeem Facebook from evil, the Tour of America is an ideal opportunity for a bit of contrarian analogue redemption in the wake of a major digital setback.
But image isn't everything and the business case should take precedence.  For Facebook, a sponsorship of the Tour of America checks at least four big boxes:  1) It can become the "Lean in" of sports events, elevating FB COO Sheryl Sandberg's mission to purge gender inequality from the globe; 2) It will include exclusive distribution and broadcast rights of new sports content that will have universal appeal to a good number of Facebook's two billion+ current and future users – a surefire means of increasing user activity and Facebook ad revenue; 3) It can drive adoption of Facebook's Oculus GO virtual reality platform as another way to experience the race; 4) It can reposition Facebook as a more socially responsible corporate citizen that, for example, promotes women's STEM (science, technology, engineering and Math) education and empowerment in the technology workplace, with the goal of addressing one of their biggest challenges:  recruiting more women into engineering and leadership roles.
2. Nike
Has Nike lost its sole? The juggernaut sports apparel company is reeling in the wake of their very own #MeToo moment, faced with accusations of harassment and discrimination in the workplace. A survey of women at Nike disclosed a culture of inequality that prevented them from ascending to positions of influence within the company at the same rate as their male counterparts.  Combine this with the growth in women's sports apparel, and Nike's dipping a (shoe) toe in the cycling market, and its clear the Tour of America could be a great platform for Nike to make a very forward-looking statement about their commitment to gender equality and women's empowerment.
Nike: a sponsorship with the Tour of America is a big step toward positive cultural change, and to that we have three words for you:  Just do it.  
3. Delta Air Lines
Full disclosure: I had a long career at Delta prior to jumping into the sports marketing industry, so I admit my bias, but Delta is a stronger and better company then when I was there, and not just on the balance sheet. They have been bold and courageous in taking a stand on social issues and they understand the importance of embracing values that are sometimes at odds with maximizing the bottom line.  Among those values is a demonstrated belief in the dignity and equality of all humanity.
For our purposes, a Delta sponsorship would be on par with an Olympic sponsorship in how it could be activated, including a commemorative aircraft design and a wealth of volunteer, participation and VIP opportunities for their employees, partners and high level SkyMiles members.  We will need air travel for our athletes and with Delta supplying us, we could do things never before considered for a multi-stage race, like for instance: stages in/around New York, Chicago and San Francisco across five days.
Whether it's Delta's continued effort to raise the bar on social consciousness or the peloton scaling Mt. Davidson, our message is the same:  Keep Climbing.
4. Salesforce.com
Silicon Valley – a term representing the entire technology industry – is still rife with misogyny, and it has cost them, not so much in lawsuits as it has in the resulting failure to fully engage and unlock the genius of half our population. Fortunately, one man has emerged to make the most concerted effort to overcome the industry's blatant discrimination: Marc Benioff, the founder and CEO of Salesforce.com.  After discovering ongoing pay inequality based on gender, Benioff mandated equal pay with clear metrics and ongoing monitoring.
But this has proven to be a lot harder than initially expected, in part because true equality is more than just paying people equally based on gender.  It requires a pipeline of "equal" talent , but unfortunately, the flow of women engineers, programmers and executive leadership is little more of a trickle compared to men.  How to solve it?  Inspire and empower young girls and women to dive into the STEM fields with a high visibility educational and scholarship campaign using an elite women's cycling race as its platform.
So, Marc, as you head toward $20 billion in annual revenue, all we need is $5 million of that to get this off the ground for three years and get our shared message out about the importance of real gender equality and opportunity in Silicon Valley.
5. Fidelity Investments
"Who Runs Mutual Funds? Very Few Women".
That was the headline of a recent New York Times article about the appalling lack of gender diversity among the ranks of top financial portfolio managers.  Less than 10 percent of mutual and exchange-traded fund managers are women, with Fidelity Investments hitting exactly that percentage and doing worse than the majority of their competition.  A potential cause and effect:  they are also facing claims of sexual harassment and misconduct in the workplace.  There is obviously some work to do.
Fidelity is now led by Abigail Johnson, the granddaughter of the company's founder, and they have voiced their commitment to diversity.  In addition to providing a point of access to the affluent North American cycling demographic (and their future investments) we can deliver an unmistakable opportunity to Abby and her legions:  a chance to launch a full-scale awareness and recruiting campaign tied to a partnership with the Tour of America.  What better way to demonstrate fidelity to their gender diversity commitment?
6. Athleta
At the center of the Athleta values page is the statement: "WE"RE HERE TO EMPOWER WOMEN AND GIRLS" followed by #powerofshe. One of their core values is "Sisterhood elevates", meaning, as they express it: "We need each other. We know that when women come together, we'll be unstoppable. So we aim to inspire that feeling of community in everything we do."
Another of their core values is "Movement Matters", where they say: "We believe being active opens doors to a bigger life.  And that unleashing the power of your body can translate into mastery of your mind and serenity in your soul, too."
Elsewhere on their site, they say:  "Our mission is to ignite a community of active, healthy, confident women and girls who empower each other to realize their limitless potential."
I could add our own words about why an Athleta sponsorship would fit the Tour of America like a perfect pair of yoga pants, but their words do a much better job of that than I can.
Athleta:  We're here to help you ignite that community.  If you can give us the matches, we'll supply the fuel.
7. P&G
Proctor and Gamble, now officially known as P&G, has grown from its humble beginnings in the heart of America to become the largest consumer goods company in the world. Back in 2014, they launched their award winning "Like a Girl" campaign in conjunction with their Always brand, setting out on the dual mission of empowering girls through education and helping girls across the world.
The early iteration of the campaign was brilliant in its exposure of our shared biases, expressed in what it means to do something "like a girl," and a message about why those biases can be so disempowering.  The Tour of America would give P&G an opportunity to build upon and expand this great campaign – a five-day event that will let some of the best cyclists in the world show us all what it really means to compete "like a girl."  And all this for the cost of a 30-second Super Bowl commercial, which is how the campaign first came to life.
______________________
This only scratches the surface on the creative things that we could do with each of these companies through a sponsorship that could address their very real business and social needs.  It is also just a small sample of prospects – there are more potential partners out there that would be a nice strategic fit for the Tour of America, and we'll be sharing our thoughts in more detail about them in the months ahead.
Our biggest obstacle to bringing any one of them on board is the natural risk aversion for most any corporation toward making a sponsorship investment in a new sports property, but as is the case with many risks, there is a proportional reward for those who are ready to take the leap.  For the Tour of America, that high reward will be exclusive to the first sponsors that come on board.
They will get rights to marketing assets, of course, but more importantly, they will earn a windfall of national and global goodwill that only the boldest among us are entitled to.